Enlarge text
A
A
A
Library
News

and Events
City Buildings Closed To The Public
Updates available at
ci.grand-marais.mn.us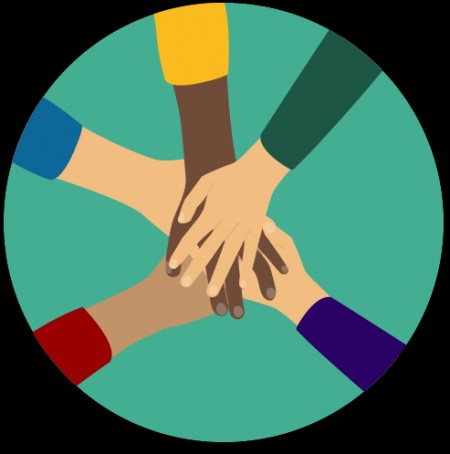 To protect public health and slow transmission of COVID-19 all City buildings are closed to the public until further notice (Liquor Store, Library, City Hall & Rec Park). The City will continue providing essential services during the COVID-19 pandemic.
The Library is still providing the following services:
Customer Service during the Stay at Home order:
Staff are responding to voice messages (218-387-1140) and email as quickly as possible.
We can provide support by phone for accessing digital collections.
Get a message to the Library Director: amanda@grandmarais.city
Physical Materials (books, DVDs, audiobooks, etc.):
Our physical collections are not circulating at this time.
Items on the hold shelf will stay in the library until we reopen.
New hold requests will be filled when libraries re-open for sharing.
You may return items to our outdoor drop box.
No library's items will accumulate overdue fines during the days we are closed, so enjoy what you have and plan to return them by May 2.
Digital Collections and 24-Hour Services:
Scroll down to see an extensive list of collections and services still available during the pandemic.
The American Library Association released
this statement r
egarding library closures during the pandemic.
---

24-hour library services you can access via the internet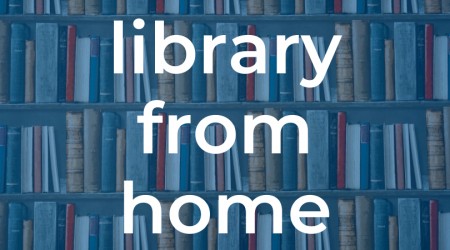 Wi-Fi Connection:
Transmitting from the building even during the library closure.
To fully connect, you will need to agree to the terms of service page.
Get a Library Card
:
Use this form to request a library card.
Use the library card to access the digital services below.
Mail-a-Book
: Order books by catalog and receive them by postal mail
Available to county residents and city home-bound residents only
Access the online catalog at the bottom of the sign-up page.
BookMyne
: An app for accessing your library's catalog and managing your account.
Download the app from your device's app store, free.
OverDrive
: Access a collection of ebooks and eaudios.
You need a library card number. Don't have one? ALS staff will set you up remotely. Click here.
You'll need Internet to download your item. Connect to our Wi-Fi.
Support for most devices: Here is the online help page.
RBDigital
: Access a collection of full-color digital magazines.
You need a library card number. Don't have one? ALS staff will set you up remotely. Click here.
You'll need Internet to download your item. Connect to our Wi-Fi.
You'll need to create an account. Click REGISTER at the top of this page.
Reference Resources
: MORE information to access from home.
NoveList is a fun tool for selecting your next read.
JobNow supplies coaching, resume and job search tools.
MNReads, MNWrites is a self-publishing platform.
EBooks Minnesota -- a collection for readers of all ages featuring content from our state's independent publishers, including some of our best literature and nonfiction.
eLibraryMN/Electronic Library for Minnesota (ELM) -- magazine, newspaper, and journal articles, eBooks, and information from reference sources—available to Minnesota residents at no charge.
Minnesota Reflections -- photos, documents, and maps related to Minnesota history.
...and more.
TumbleBooks
: Digital book collections available until August 2020.
Daily Literacy-Building Activity Calendars
: These full-color calendars provide activities, songs, and book recommendations to help families build a child's early literacy skills.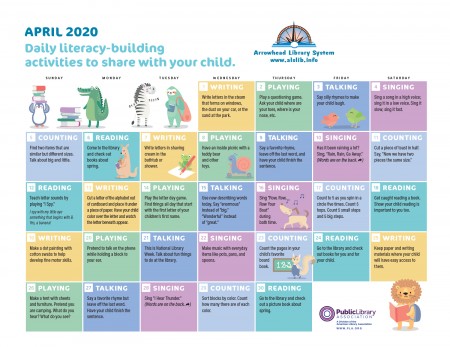 ______
If you would like help accessing a collection for the first time, call us at 218-387-1140, or send a message to the Library Director: amanda.stjohn@alslib.info. We will get back to you as soon as possible to add an additional layer of support.
---

covid-19


As officials continue to investigate the Coronavirus outbreak, the
Center for Disease Control (CDC)
and
Minnesota Department of Health (MDH)
will be two reliable, current sources of information. Visit these websites for up-to-date information about how best to prepare, prevent, and respond.
---
Information about the 2020 census
The 2020 Census has begun. The
official website
, provided by the Census Bureau, is prepared with information about the process and value of participating in the survey, which happens once every 10 years.
This is the first year that the Census will be offered online in addition to response by paper or phone. The survey can be accessed by nearly any personal computing device (laptop, tablet, smart phone, etc.) connected to the Internet.
Additionally, Grand Marais Public Library will act as Cook County's Questionnaire Assistance Center. As such, we will supply Wi-Fi access, as well as support in accessing the online survey site. Library staff are not Census Bureau employees. Our aim is ensuring everyone who wants to access the survey can.
Questions about how to answer the 2020 Census can be directed to Census Bureau staff at 844-330-2020 from 6AM to Midnight Central Standard Time or visit our Language Support page for help in additional languages.
---

GO COOK COUNTY PROCESS INVITES COMMUNITY INPUT
The Cook County/Grand Marais Economic Development Authority was formed to diversify the economy, create employment through retention and expansion of existing businesses and development of new businesses, support the development of housing and increase the tax base.
The Cook County EDA and Cook County Chamber of Commerce invite Cook County residents and stakeholders to participate in a renewal of the Go Cook County prosperity priorities community visioning process. Working with The Northspan Group, Inc., which facilitated the initial Go Cook County process in 2012, the EDA and Chamber seek to understand changes to the local economy over the past decade, measure progress to date, and lay the groundwork for future economic success in Cook County.
We invite all community members to:
Respond to a Community Perceptions Survey. (https://www.surveymonkey.com/r/GoCookCounty)
Take part in one of two Future Focus Workshops scheduled for Monday, April 6 from 4:00 - 8:00PM and Tuesday, April 7 from 8:00AM - 12Noon. They will take place in the Commissioner's Room at the Cook County Courthouse, 411 W 2nd St., Grand Marais. The sessions are open to all with a cap of 40 participants for each, which means we need RSVP's. Click HERE (https://forms.gle/pGA8c6YC7NBkEGUd8) to RSVP or email avuicich@northspan.org
For further information, contact Mary Somnis at 218.387.3112 or director@prosperitynorth.com
---
one more time book club Discussion
** This event has been postponed. We will announce the new date as soon as it is scheduled. Thank you for your interest.**
Facilitated by Joan Drury and Anne Brataas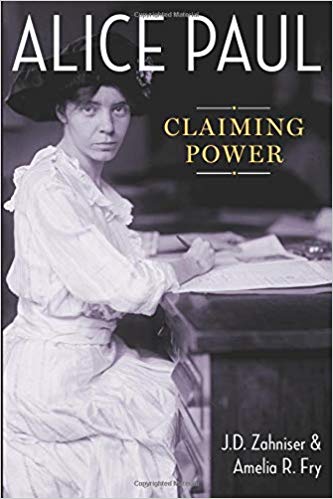 Celebrate Women's History Month and the 100th Anniversary of Women's Right to Vote with the One More Time Book Club group, which is forming now to read and discuss just one more book: J.D. Zahniser's
Alice Paul: Claiming Power
.
At 28 years old, Alice Stokes Paul led a media campaign that turned attention from President Elect Woodrow Wilson's first inauguration toward the demand for women's right to vote. She participated in the first group protest in front of the White House, which lasted 18 months. Although she sustained verbal and physical attacks, threats, and mal-treatment in jail, Paul remained an advocate for women's rights until her death in 1977.
Anne Brataas and Joan Drury will facilitate the discussion at Grand Marais Public Library. No registration is required. Come even if you have not finished reading the book, which is now available through the library and Drury Lane Books.
This event was inspired by the Frances Perkins book discussion that took place February 5th at the library, and it is made possible by community partnership between the library,
Drury Lane Books
and
Minnesota Children's Press
.
---
---
Highway 61 construction project
Watch this video for a detailed explanation of the construction phasing, staging and traffic control to impact Grand Marais over the next couple of years.
Coming soon: "Project Status" link.
---
mail-a-book program for county residents
Listen to this short WTIP audio clip
County folks, we know it can be difficult to return books to Grand Marais Public Library on time. Did you know you can borrow paperback books and other materials from the
Arrowhead Library System
via u.s. mail free of charge?
The items come to your mailbox; you return them through your mailbox. The same is true for city residents in assisted living. ALS Executive Director
Jim Weikum joins Tracy Benson on WTIP to explain
:


---
online tech help videos
Try these!


Over 40 Tech Support videos offer short, straight-forward instructions on a variety of topics, including:
Copy and paste
Make a phone call from your GMAIL account--for free.
Attach a file to your email
Crop your photos
---
Library gets a New strategic plan, mission, tagline
Winter 2017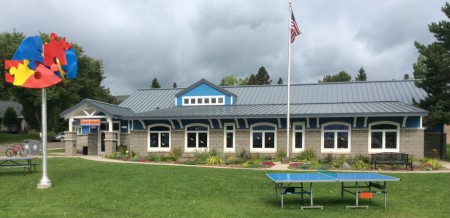 With much help from the community, the Grand Marais Public Library completed a strategic planning process this year that will guide our actions for the next five years.
Our new mission is:
The Grand Marais Public Library increases knowledge, inspires creativity, removes barriers, and builds community across Cook County.
Our tagline is:
EXPLORE. LEARN. CREATE. CONNECT.
Our priority goals are:
The community will increase understanding and appreciation of the full range of human diversity.
The community will have increased knowledge and utilization of library resources and programs throughout the county.
People will enjoy a comfortable environment that gives them a sense of community belonging.
Young children will develop a love of reading and improve their literacy.
We invite you to
review the Strategic Plan
for more information.
---