Enlarge text
A
A
A
Library
News

and Events
---
Create a comic kits
January 14 - January 31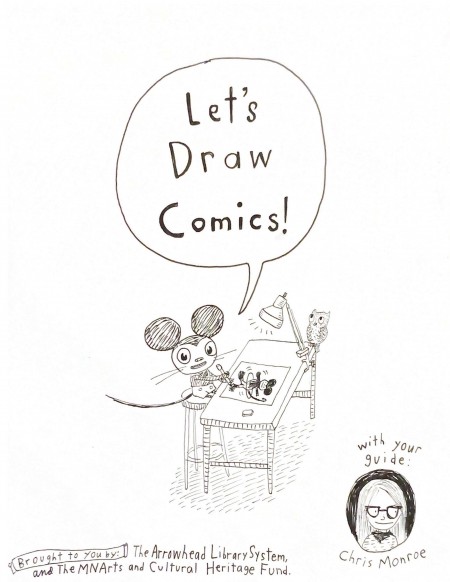 Vroom! Screech! Thud!
Create a Comic Kits Have Arrived.
Starting January 14, we will be distributing Create a Comic Take and Make kits. Created by Minnesota author and illustrator Chris Monroe, the kits are geared toward third graders on up to adults. Participants create their own wacky characters using draw-along instructions to determine the character's looks, style, emotions, and ability to take a fall. They then insert the characters into a comic strip using the cartoon-panel pages and felt tip pen provided.
Chris Monroe also created this video about the kits and getting started with comics:
https://vimeo.com/664924371/95bd94dece
---

Winter REading Program
January 10 - March 25, 2022
Grand Marais Public Library is launching its annual Winter Reading Program. This year, we are adding a program for adults. Details about the youths' programs will appear in
the Kids' Corner
section of our website. Adults, read on.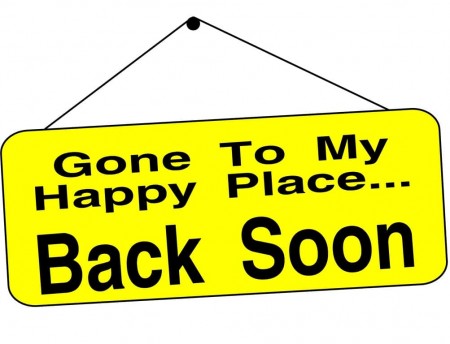 The adult Winter Reading Program theme is 'My Happy Place.' The theme invites you to make space and time to engage the hobbies, interests, and passions that fill up your 'happiness cup'. Activities encourage exploration of new authors, ideas or hobbies, and engagement with our book-lovin' staff.
How does the adult program work? Starting January 10:
Come pick up the adult winter reading log, which explains the book Bingo, book bundles, and HappyLights components of the program.
Each time that you return a completed Bingo card, or Book Bundle or HappyLight survey, you'll be entered in the weekly prize drawings and have a chance to win the grand prize basket.
Prize drawings happen on Fridays after 3PM beginning Friday, February 4, 2022 and end with the Grand Prize drawing on Friday, March 25th.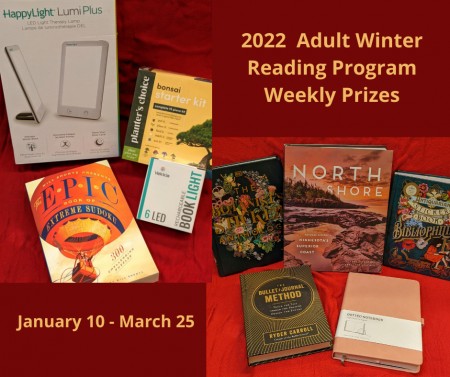 Books, audiobooks, and downloadable content all count for participation. You'll need a library card to borrow library materials. We'd be delighted to get you set up with the card or to answer any questions that you have about the program.
Adults,
sign up for a Book Bundle
here.
Ask us about curbside pickup.
Happy New Year, Readers!
---
National Day of Racial Healing
The official virtual event of the W.K. Kellogg Foundation
Watch the recorded 2022 event:
https://healourcommunities.org/watch/
The National Day of Racial Healing is part of the W.K. Kellogg Foundation's
Truth, Racial Healing & Transformation efforts
, which aim "to unearth and jettison the deeply held, and often unconscious, beliefs created by racism – the main one being the belief in a 'hierarchy of human value'." This year's program is hosted by Award-winning documentarian, journalist, speaker, author and philanthropist Soledad O'Brien. It includes real-time examples of how we can catalyze the process of racial healing and create opportunities to reimagine systems to promote racial equity. Closed captioning was available in English, Spanish and Haitian Creole.
---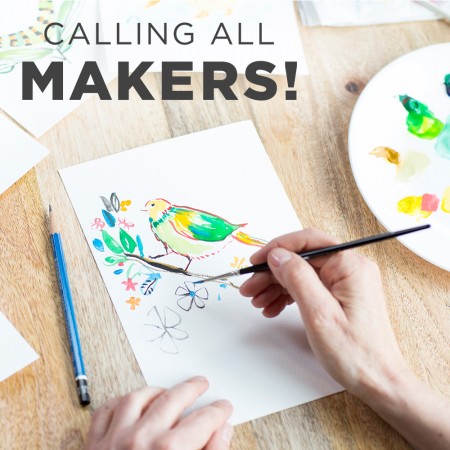 Do you have an ALS library card and Internet acess? Great! You now have unlimited access to more than 1,000 award-winning arts and crafts video classes taught by recognized design experts and artists.

There are creative projects for every occasion with downloadable patterns, templates, and recipes. The easy-to-navigate website features classes on topics in art and design, sewing, paperwork, holidays and parties, knitting and crochet, quilting, jewelry, and more! Browse by skill difficulty levels, quick or multi-part classes, specialty techniques, or those video tutorials best suited for children.
---
Overdrive app replaced by libby

If you use the OverDrive App to access the library's collection of downloadable books, audios and magazines, please read this notice.
OverDrive App will be removed from app stores sometime in February.
Patrons that have it on their devices already will be able to continue using it, for the time being, but we have noticed that it is no longer receiving support. For example, if you recently borrowed a downloadable book, audio or magazine from our online catalog and it is not showing up in the OverDrive app, the problem is linked to this migration. The solution is to remove the OverDrive app from your device, download Libby from your app store, and your item will be there waiting for you to download it (as long as you complete the steps before your request expires).
Here is
the latest information on OverDrive's plan to eliminate the OverDrive App
.
The changes do
not
impact the OverDrive Website--just the app.
---
Library is open
Monday, Tuesday, Thursday and Friday : 10 AM - 5 PM
Wednesday 10 AM - 8 PM
Saturday 10 AM - 2 PM


Face Coverings Requested.

Contactless services are available by request. Please call for more information.
Stay home if you or anyone in your household is ill.



---
state parks passes at your library
June 14 2021 through June 30, 2022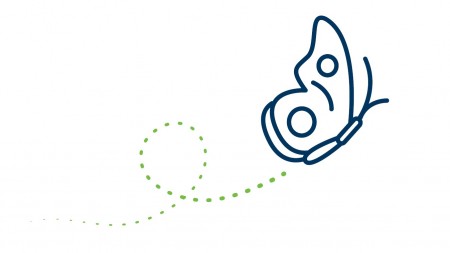 Through a partnership with the DNR, the library will be circulating two free 7-day vehicle parking passes to visit Minnesota's state parks. A library card is not required for participation. Starting June 14, we will begin accepting reservations for the passes and will book them through August 31, 2021. Additional months will open as the current one ends.

The purpose of this program is to make state parks even more accessible to the public by eliminating the entrance fee. Passes are funded by the DNR's Parks and Trails Legacy Amendment dollars. Folks who try the program will be encouraged to complete a survey. The data are needed to support the program's continuation. For more information about Minnesota's parks, visit mndnr.gov.
---
WOWBRARY email service
A welcoming way to see the newest additions to our collection




WOWbrary is a weekly email showcasing Grand Marais Public Library's newest books, audiobooks, movies, and magazines.

With WOWbrary, you can browse our latest arrivals from home or wherever you have Internet access. You'll learn about bestsellers, cookbooks, mysteries, science books, travel guides, histories, children's titles, health books, science fiction, and more. Read a summary of each title and screen consumer reviews. With links to our catalog, it's easy to place holds on the titles that capture your imagination.



---
mail-a-book program for county residents
Listen to this short WTIP audio clip

County folks, we know it can be difficult to return books to Grand Marais Public Library on time. Did you know you can borrow paperback books and other materials from the Arrowhead Library System via u.s. mail free of charge?

The items come to your mailbox; you return them through your mailbox. The same is true for city residents in assisted living. ALS Executive Director Jim Weikum joins Tracy Benson on WTIP to explain:
---
strategic plan, mission, tagline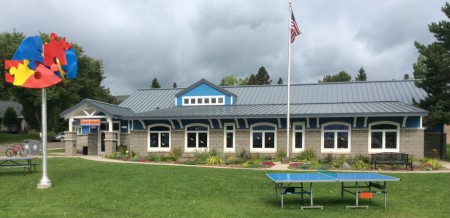 Our mission is:
The Grand Marais Public Library increases knowledge, inspires creativity, removes barriers, and builds community across Cook County.

Our tagline is:
EXPLORE. LEARN. CREATE. CONNECT.

Our priority goals are:
The community will increase understanding and appreciation of the full range of human diversity.

The community will have increased knowledge and utilization of library resources and programs throughout the county.

People will enjoy a comfortable environment that gives them a sense of community belonging.

Young children will develop a love of reading and improve their literacy.
We invite you to review the 2018-2022 Strategic Plan for more information.
---