Enlarge text
A
A
A
Pickup Window Program
Library Hours
The library is currently providing remote customer service by phone or email, and pickup window service during these hours:
Monday, Tuesday, Thursday, Friday from 10 - 5
Wednesday 10 - 8
Saturday 10 - 2
---
Library by Appointment
Monday through Friday, 11 AM - 4 PM
Saturday, 11 AM - 1 PM
Reserve a 30-minute appointment to browse the collections and use on-site technology such as a computer, the Internet, and printing, photocopying or scanning tools. Each appointment admits up to two people. Those entering the building must wear a face covering that completely covers mouth and nose during the entire visit, and hand sanitize.
If you or anyone in your household is ill, please stay home.
Call: 218-387-1140
Email: gmlib@alslib.info
---
Pickup Window Program
Monday, Tuesday, Thursday, Friday from 10:00 AM until 5:00 PM
Wednesday from 10 AM until 8 PM
Saturday from 10 AM until 2 PM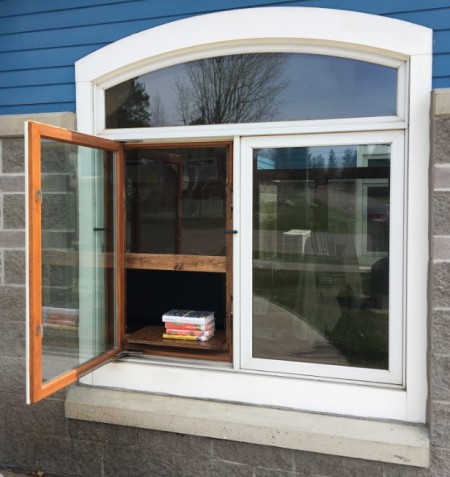 Grand Marais Public Library has a Pickup Window Program for community access to books, audiobooks, DVDs, and magazines.
How it works:
STEP 1: Place requests on Grand Marais' holdings via ...
STEP 2: Staff process requests in the order received.
STEP 3: Staff call you to ...

schedule a pickup
checkout your items

STEP 4: Pickup Day

Tell us your name
Grab and Go
Call us for additional services
Pickup Days are Monday, Tuesday, Thursday and Friday from 10:00 AM until 5:00 PM, Wednesday from 10 - 8, and Saturdays from 10 - 2.
Please, do not come to the pickup window until your pick up is scheduled and items are checked out to you.
Pickup participants, please pledge to:
Send one pickup person per household.
Wear a face covering and practice social distancing.
Wait in your vehicle if more than 3 people are in line.
Return items to the outdoor drop box only.
Collect your items and return to your vehicle.
Stay home if anyone in the household is sick.
---

Additional information:
Using the online catalog for the first time

Call for additional assistance.

Customer service by phone or email:

Yes, we can help you request materials.
Phone: 218-387-1140
Email: gmlib@alslib.info

Interlibrary loan service:

Most Arrowhead region libraries are circulating interlibrary loans again. Go shopping! Note that the exchange process is slowed by the COVID 19 procedures each library must implement.
MNLink items may take significantly longer to arrive. Because many libraries are closed, or open only with limited services, some items will not be available. Please return materials promptly. Having an overdue MNLink item on your account may cause incoming MNLink titles to be returned.

Due dates are as marked. Please renew if you need more time and return items promptly.
Remote printing. Please email your print-ready documents to gmlib@alslib.info ahead of your visit to the library. Tell us 1) How many copies, 2) whether you want back-to-back printing, and 3) whether you want black and white (20 cents per side) or color copies (80 cents per side). Please pay with exact change or check.